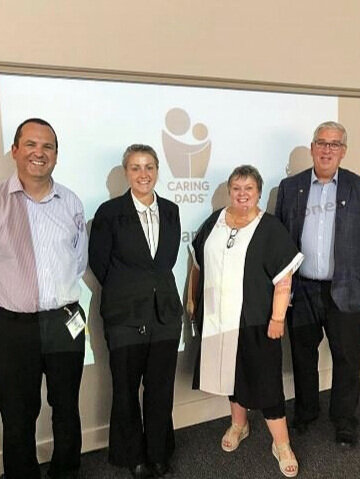 Since 2006 Gorwel has been providing services to women, men and children dealing with domestic abuse in Ynys Môn, North Wales, UK. Gorwel offers various services such as floating support in the community, Independent Domestic Abuse Adviser and two refuges at secret locations providing emergency accommodation for women and their children
escaping from domestic abuse.
We have been facilitating Caring Dads groups since 2013 working across four counties in
North Wales. Gwynedd, Conwy, Denbighshire and Ynys Môn. We aim to facilitate four groups every year. The group is very popular with statutory agencies referring to us –Children Services, CAFCASS, Probation and self referrals from fathers.
Gorwel is able to provide a holistic approach to the family in providing a service to everyone in the family – the mother, the children and the father.
All our groups are facilitated bilingually through the medium of Welsh and English.
Training feedback from the families
Testimonials from Dads
"In the beginning I thought it was all a waste of my time and I didn't see the point in going.But after a few sessions I felt that I was learning from the programme, especially in regards to the impact of the children seeing domestic abuse".
"My little girl has altered a lot and is a very happy girl. Little tips I have gained from the programme have really helped – like the importance of playing, listening and praising her".
"I've learnt so much from Caring Dads, how to show my stepchild love and to cherish her more. I've learnt restraint and not to fly of the handle so much and try and see it from the child's point of view. I'm a lot calmer and more forgiving when I see her now".
"The programme helped me to understand what I witnessed as a child (domestic violence) has impacted me and how I behave with my own family today".
Testimonials from Mothers
"He struggled at the beginning because he didn't think he needed to be on the programme. But he seemed to relax as the sessions have gone on. He will now talk about the sessions with me and tell me what he has learnt. I don't think he had realised the impact his behaviour had on our children and myself."
"He is now much calmer with me. He now wants to spend more quality time with the
children. He likes taking them swimming and for days out".
"Since has been attending the programme we argue less, he will open up more about how he
is feeling. He doesn't seem as frustrated as before. He is now supporting me more with the children. I think he now sees why Social Services were concerned about us.



For more information about the programme, you can also visit https://www.pauljonesisw.co.uk/caring-dads-programme
or